INSTALLATION INSTRUCTIONS
FOR THE GEN 123 GRIP FORCE ADAPTER
(INSTRUCTIONAL VIDEOS AT BOTTOM OF PAGE)

TOOLS REQUIRED
GLOCK ARMORERS TOOL OR 3/32" PIN PUNCH
SMALL ARMORERS HAMMER


1. VERIFY THAT YOUR PISTOL IS UNLOADED, CLEARED AND SAFE. REMOVE
THE SLIDE FROM THE PISTOL IF DESIRED.

2. PRIOR TO INSTALLING THE GRIP FORCE ADAPTER, YOU SHOULD SMOOTH
THE OUTSIDE EDGES OF THE ADAPTER WHERE IT MATES UP AGAINST
THE PISTOL FRAME. YOU CAN USE A FINE EMORY BOARD OR FILE FOR THIS
PURPOSE. REFER TO THE RED HIGHLIGHTED AREAS IN THE ILLUSTRATION.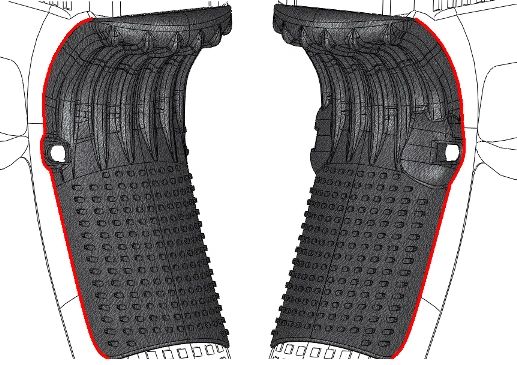 3. DO NOT REMOVE THE ORIGINAL TRIGGER ASSEMBLY PIN UNTIL THE
FOLLOWING STEPS ARE COMPLETED! MAKE SURE THE FIREARM IS
UNLOADED AND THE CHAMBER IS EMPTY BEFORE PROCEEDING. IF
THE FIREARM IS COCKED (TRIGGER IN FORWARD POSITION), DE-COCK IT
BY DRY FIRING IT IN A SAFE DIRECTION. AFTER THAT IS COMPLETED, USING
YOUR 3/32" PIN PUNCH TOOL, REMOVE THE FACTORY TRIGGER MECHANISM
HOUSING PIN FROM THE BACK STRAP AREA OF THE FRAME.

4. IDENTIFY THE EXTENDED PIN PROVIDED WITH THE GRIP FORCE ADAPTER.
MAKE SURE THAT THE TRIGGER HOUSING MECHANISM IS PROPERLY
ALIGNED INSIDE THE FRAME. INSERT AND INSTALL THE EXTENDED PIN
INTO THE HOLE ON THE LEFT SIDE OF THE FRAME. LEAVE A SLIGHTLY
LARGER PORTION OF THE PIN EXTENDED OUTSIDE ON THE LEFT SIDE OF
THE FRAME. THE SMALLER PORTION OF THE PIN SHOULD EXTEND
OUTSIDE ON THE RIGHT SIDE OF THE FRAME.
6. ALIGN THE RETENTION HOLE ON THE LEFT SIDE OF THE GRIP ADAPTER
OVER THE EXTENDED PORTION OF THE PIN ON THE LEFT SIDE OF THE
FRAME.

6. ONCE THE LEFT SIDE OF THE GRIP ADAPTER IS INSTALLED OVER THE PIN,
PRESS FIT THE HOLE ON THE RIGHT SIDE OF THE GRIP ADAPTER OVER THE
PIN STICKING OUT OF THE RIGHT SIDE OF THE FRAME. THE RIGHT SIDE OF
THE GRIP ADAPTER SHOULD ENGAGE OVER THE RETENTION PIN. USING
THE PIN PUNCH AND SMALL HAMMER, PUSH THE PIN FROM THE LEFT SIDE
OF ADAPTER FURTHER INTO THE FRAME SO THERE IS AN EQUAL PART OF
THE PIN ENGAGED ON BOTH SIDES OF THE GRIP ADAPTER. THE ENDS
OF THE RETENTION PIN SHOULD FIT FLUSH WITH THE OUTSIDE EDGES
OF THE GEN 123 GRIP ADAPTER.


SPECIFIC INSTALLATION INSTRUCTIONS FOR A
GEN 4 GRIP FORCE ADAPTER


1. IF YOU ARE CONSIDERING SEMI-PERMANENT INSTALLATION
(AS DESCRIBED BELOW), COMPLETE THAT INSTALLATION PROCESS
BEFORE CONTOURING THE RETENTION PIN FOR THE GEN 4 ADAPTER.

2. TO INSTALL A GEN 4 ADAPTER, FOLLOW STEPS 1 THROUGH 6 THAT
WERE USED FOR INSTALLING A GEN 123 GRIP ADAPTER.

3. HAVING INSTALLED A GEN 4 ADAPTER, IT IS RECOMMENDED TO TAKE A
SMALL EMORY BOARD AND CONTOUR BOTH ENDS OF THE RETENTION PIN
FLUSH WITH THE GRIP ADAPTER. ONCE THE ENDS OF THE PIN ARE
CONTOURED PROPERLY, THEY WILL FOLLOW THE OUTSIDE RADIUS OF THE
GRIP ADAPTER. THIS WILL PROPERLY FIT THE RETENTION PIN TO THE GEN
4 ADAPTER. THIS STEP IS NECESSARY DUE TO THE LENGTH OF THE
RETENTION PIN AND THE DIFFERENCE IN WIDTH BETWEEN THE GEN 123
AND GEN 4 GRIP ADAPTERS.


SEMI-PERMANENT INSTALLATION
FOR GRIP FORCE ADAPTERS
FOR MILITARY / LAW ENFORCEMENT /
HARD DUTY USE


1. WORK IN A WELL VENTILLATED AREA AND USE DISPOSABLE RUBBER
GLOVES.

2. FOLLOW STEPS 1 THROUGH 4 LISTED ABOVE FOR INSTALLING A GEN 123
GRIP ADAPTER.

3. USE THE RTV SILICONE ADHESIVE (SOLD SEPARATELY). AVOID GETTING
ANY ADHESIVE IN OR NEAR THE RETENTION PIN HOLE AREA OF THE GRIP
ADAPTER OR THE PISTOL FRAME. APPLY A BEAD OF ADHESIVE TO THE
PRIMARY CONTACT AREAS OF THE GRIP ADAPTER. PROCEED WITH STEPS
5 AND 6 FOR INSTALLING A GEN 123 GRIP ADAPTER.

ONCE THE GRIP ADAPTER IS INSTALLED, USING THE FINGER TIP OF YOUR
GLOVED HAND, WIPE OFF ANY EXCESS SILICONE ADHESIVE THAT PRESSES
OUT FROM BETWEEN THE GRIP ADAPTER AND PISTOL FRAME. ALLOW
ADHESIVE TO DRY BEFORE CONTOURING THE ENDS OF THE RETENTION
PIN FOR A GEN 4 ADAPTER.



INSTALLATION DEMONSTRATED
BY BILL ROGERS



INSTALLATION INSTRUCTIONS - GEN 123 ADAPTER









INSTALLATION INSTRUCTIONS - GEN 4 ADAPTER


SEMI-PERMANENT INSTALLATION INSTRUCTIONS